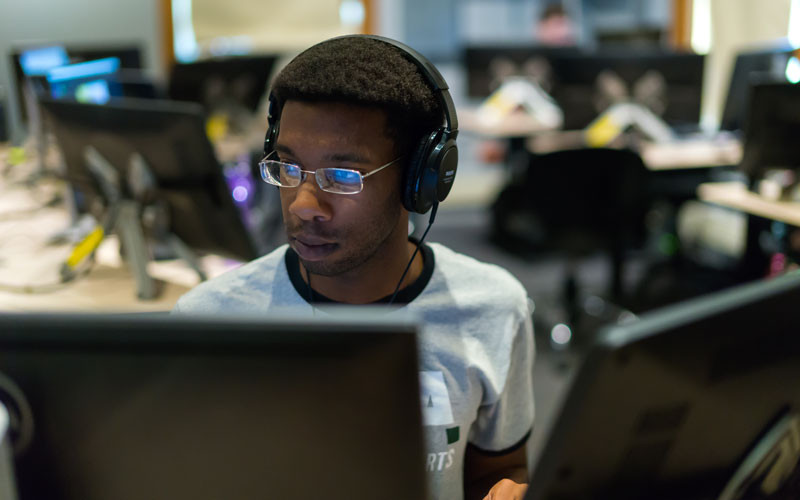 SCREENWRITING MINOR
Set the scene with a solid screenplay
Screenwriting is essential to digital storytelling. Being able to master the art of storytelling, character development, and conflict will serve as the foundation for all the moving parts that enter after a screenplay is written. Within Huntington University's digital media arts program, you will learn how to develop your own characters that will come to life in the stories you create on the page and on screen. A screenwriting minor will bolster a major in television production, animation, and film, and also pairs nicely with any of the theatre majors.
EXPERIENTIAL LEARNING
Join the Forester Digital Network and experience live event / sports reporting, news production, and broadcast radio.
FAITH-BASED TEACHING
Integrate faith and learning as you explore issues in ethics, Christian values, and faith-informed storytelling.
FOUNDATIONAL STUDIES
Learn from HU's award-winning DMA professors who have celebrated industry careers as well as essential teaching experience.
AWARD-WINNING STUDENT WORK
Browse the department pages to find student work that has won several awards and accolades at regional and national competitions.
WHAT WILL I STUDY?
Screenwriting Curriculum
With both hands-on experience and classroom instruction, you will learn the ins and outs of the broadcast business. From sports to network news, the Forester Digital Network will provide opportunities to engage in live events while courses such as Media Campaigns will reveal more of the business nuances that come with a career in broadcasting.
You will gain access to high-quality technology and equipment necessary to complete your projects through the digital media arts program and be able to tailor your projects and courses toward your particular interest.

Introduction to Screenwriting
Episodic Screenwriting
Feature Screenwriting
The Art of Storytelling
Writing the Self
Dedicated Faculty and Staff
You May Also Be Interested In