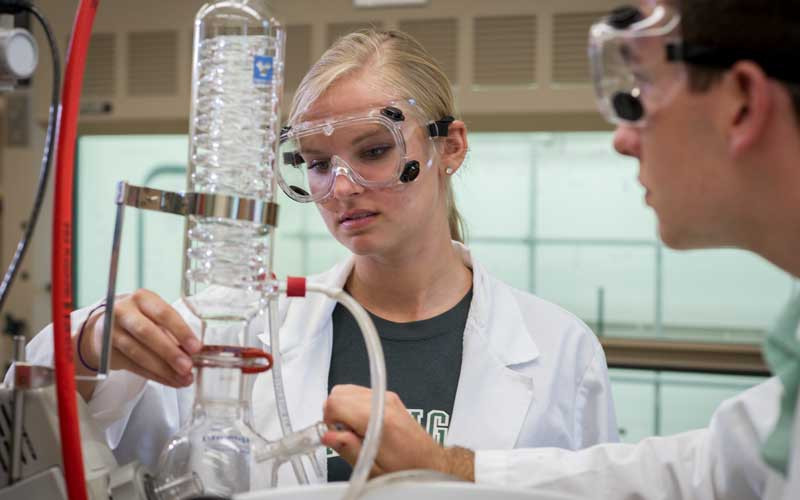 PRE-PHARMACY MAJOR
Earn your doctorate degree two years faster
Careers in pharmacy can include not only dispensing medications, but patient counseling, providing pharmaceutical advice to physicians in a hospital, making intravenous and nutritional solutions in the hospital environment, and pharmaceutical research. This accelerated program builds on HU's excellence in biology and chemistry, as well as continuing the successes of the university's accredited nursing program, innovative RN-to-BSN program, and 95% acceptance rate to med school. You can trust that you, and your future career, are in good hands.
A PEEK INSIDE THE REQUIREMENTS
Pre-Pharmacy Curriculum
The unique design of HU's accelerated pre-pharmacy program takes two to three years to complete, allowing you to directly enter a four-year pharmacy doctoral program at another institution. In all, you will earn your doctorate degree in pharmacy up to two years faster, without having to first complete a bachelor's degree. While traditional routes are accepted by earning a traditional biology or chemistry degree prior to attending pharmacy school, this accelerated option allows you to jumpstart your career and making a difference in the medical community.
Principles of Chemistry
Organic Chemistry
Cell Biology
Human Anatomy and Physiology
Microbiology for Health Sciences
Principles of Physics
Intro to Probability and Statistics
Calculus
Dedicated Faculty and Staff
You May Also Be Interested In