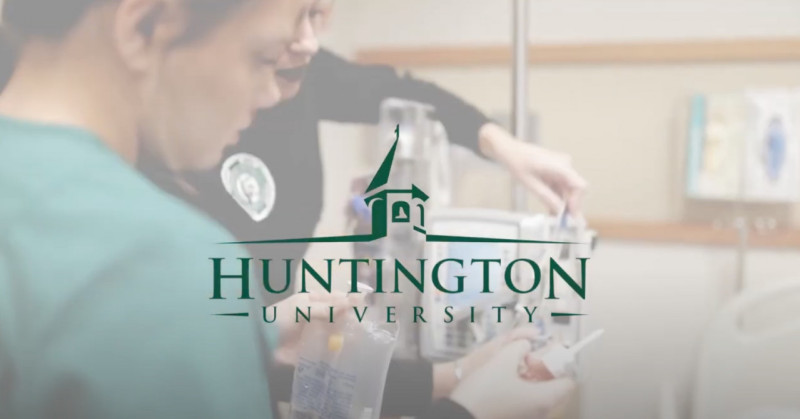 ACCELERATED BSN MAJOR
Earn your BSN in just 13 months
As part of Huntington University's unique partnership with Indiana Tech and Parkview Health, you can earn your bachelor's degree in nursing and start your career faster than you ever imagined. This opportunity comes out of a recognition that there is a critical need for skilled nurses, now more than ever. Students who meet the prerequisites can complete the program and start their nursing career immediately.
Ready to turn your passion into your purpose?
100%
job placement rate for graduates for more than 10 years.
13
months from start to completion.
100%
of tuition paid for and a job waiting for them thanks to the Parkview ABSN Scholarship made possible by Parkview Health and the Questa Education Foundation.
A PEEK INSIDE THE REQUIREMENTS
Nursing Curriculum
With HU's ABSN program, you're closer than ever to starting your career as a nurse. Students who have a bachelor's degree in any field and have completed key prerequisites can enroll in this full-time, in-person program. And thanks to the support of Parkview Health, program participants can have their tuition full paid for over time and a job waiting for them upon graduation at one of the nation's premier health systems.
Pharmacology
Fundamental Skills
Health Assessment
Adult Health
Psychiatric/Mental Health Nursing
Nursing Care of Children
Leadership in Nursing
What is the Accelerated Bachelor of Science in Nursing Program?
The Accelerated Bachelor of Science in Nursing (ABSN) Program allows students who have already earned a bachelor's degree in another subject to rapidly gain the knowledge and skills required to become a nurse. Students in the program earn a bachelor's degree in nursing in just 13 months, including both coursework and on-location clinical work at Parkview Health facilities around Northeast Indiana. The program is full time, and all classes and clinicals take place in person in Fort Wayne.
Are there scholarships and job placement services available?
Yes! Thanks to the support of Parkview Health, qualifying students may have the entire cost of the program covered over time, and a career waiting for them with Parkview upon successful completion of their ABSN degree. Those who choose to enter the scholarship-job placement program will have their entire tuition cost covered if they work for Parkview Health for 3 years or more after finishing their degree.
Additionally, Huntington University's nursing program has a long history of producing career-ready graduates, including a 100% job placement rate among licensed graduates for more than ten years running.

Will my degree be from Huntington University or Indiana Tech?
Huntington University. The Accelerated Bachelor of Science in Nursing is a Huntington nursing degree program taught by our experienced nursing faculty. Classes take place in all-new, state-of-the-art facilities on Indiana Tech's campus in Fort Wayne.
The ABSN program is a Huntington University degree program, taught by Huntington faculty members. Indiana Tech provides the classrooms and lab spaces on its main campus in Fort Wayne, allowing students to learn in state-of-the-art facilities situated in the middle of a thriving regional center for health care. Clinical work during the program takes place at Parkview Health facilities in Fort Wayne and around the region, and Parkview Health also offers a generous scholarship and job placement program for qualifying students.
Is the program accredited?
Yes. Our baccalaureate degree program in nursing at Huntington University is accredited by the Commission on Collegiate Nursing Education, 655 K Street NW, Suite 750, Washington, DC 20001, 202-887-6791, http://www.ccneaccreditation.org
The nursing program at HU also holds program accreditation from the Indiana State Board of Nursing. Both Huntington and Indiana Tech are non-profit universities fully accredited through the Higher Learning Commission.
When do classes start?
The first classes in the program will begin in August 2023. The first cohort will be open to up to 25 students. The second group of new students will begin in January 2024, with two new groups of students able to start per year after that.
Are you interested in taking the next step?
Request more information and learn more about this program!
Get Started
You May Also Be Interested In