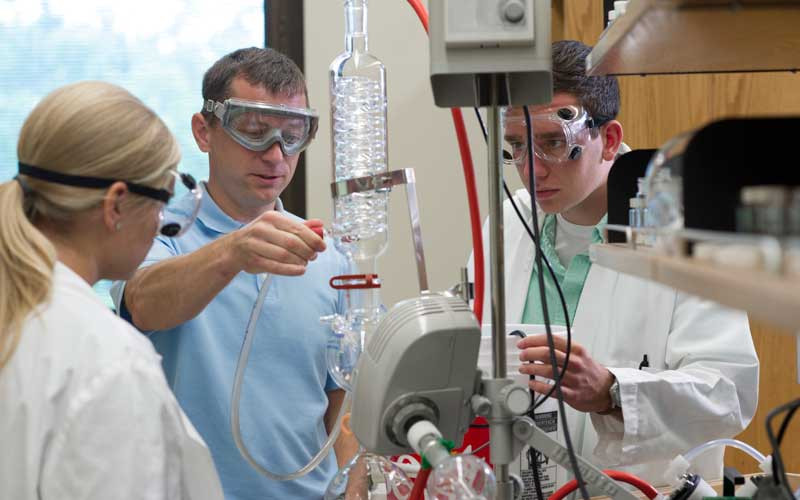 CHEMISTRY MAJOR
Chemistry builds the kingdom of God
Not only is chemistry the building blocks of the world—it's the heart of everything. Studying chemistry at Huntington University pairs a Christian liberal arts education with your studies in the lab to help you understand how chemistry works, and how exploring the smallest parts of the world can bring glory to God. With over 400 hours of hands-on experience in science labs, plenty of research opportunities, and internships available, you'll be able to work and serve in fields ranging from nanotechnology to medicine. Get ready to pursue both a life of faith and a career in science.
A PEEK INSIDE THE REQUIREMENTS
Chemistry Curriculum
With plenty of time in the lab, you'll also find your time studying chemistry filled with opportunities for research. 78% of HU chemistry students complete a major undergraduate research project with one of our PhD faculty or through competitive opportunities off campus. Your curriculum will combine classroom learning and hands-on experience to give you a comprehensive understanding of chemistry, setting you up to specialize in your chosen industry or pursue graduate studies.
Principles of Chemistry
Organic Chemistry
Quantitative Analysis
Instrumental Analysis
Physical Chemistry
Biochemistry
Advanced Inorganic Chemistry
Principles of Physics
Calculus
Dedicated Faculty and Staff
You May Also Be Interested In