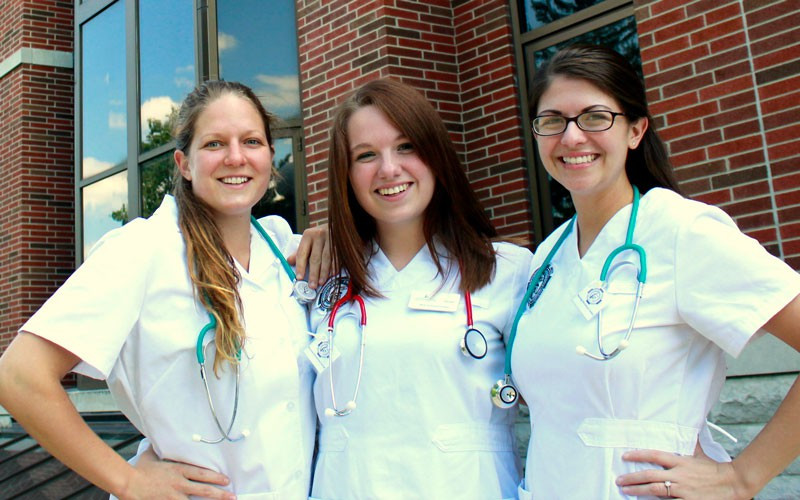 NURSING MAJOR
Turn your passion into a career.
If you have a desire to stand in the gap for sick and hurting people, Huntington University aims to encourage that passion and equip you with the practical skills to meet those needs. Skilled nurses are in high demand, and your experiential learning through HU's rigorous curriculum will set you up for success, starting with your NCLEX. Our accredited nursing program is designed to give you the in-depth training necessary in human anatomy, physiology, and chemistry to have a successful career in nursing.
A PEEK INSIDE THE REQUIREMENTS
Nursing Curriculum
As a nursing student at HU, you will take two kinds of courses: pre-nursing and nursing classes (including clinicals). The program provides students with extensive on-campus and off-campus clinical experiences along with everything needed to pass the NCLEX through our required NCLEX review course. With a 100% job placement rate in the healthcare industry, we know you'll be set up for success.
Pharmacology
Fundamental Skills
Health Assessment
Adult Health
Psychiatric/Mental Health Nursing
Nursing Care of Children
Leadership in Nursing
How does the HU Nursing Program work?
As a nursing student at Huntington University, you'll take two kinds of courses: pre-nursing classes and nursing classes (including clinicals). During your first two years at HU, you will take rigorous courses in human anatomy and physiology, chemistry, and core courses in the liberal arts. Students are admitted into the nursing major in the first semester of their freshman year through a competitive ranking of academic performance and other qualifications, such as the Test of Essential Academic Skills (TEAS). As a junior and senior in the nursing program, the focus of your courses will be nursing with additional core courses.
Pre-Nursing Admission Requirements
Pre-nursing students will meet the same requirements of general admission to Huntington University as outlined in the Academic Catalog.
To be admitted into HU's nursing program, a student must:
Complete a minimum of 58 credit hours of required freshmen and sophomore courses with a cumulative GPA of 3.0 or higher

Maintain a grade of "C" or better in each supporting course (BI 232/232L, BI 241/241L; BI 242/242L; CH 141/141L; EN 121; CO 215; MA 151; PY 111 and PY 230; and SO 111). Please note that all science and math courses may be repeated only once to obtain the required grade of "C" or above to be eligible for entry into the program

Achieve a satisfactory score on the Test of Essential Academic Skills™ (TEAS).

Prove their ability to perform the Essential Abilities

Complete a background check and a drug test
In the event of equally-qualified candidates, priority will be given to students who:
Have a higher GPA and grades in supporting courses

Have higher scores in the TEAS™ Assessment

Complete clinical requirements packet earlier than the due date with consideration based on the order received. Packets must be submitted by April 30 to be considered for the following academic year, admission into clinicals after this date will depend on available space.
Once admitted into the nursing program, it is recommended that students follow the suggested four-year schedule.
Dedicated Faculty & Staff
You May Also Be Interested In