Theatre Facilities
Scene Shop:
The scene shop, located in the Merillat Centre for the Arts, is a 2000-square-foot space devoted to the construction of scenery, the fabrication of props, and unique paint texturing. It features nearly 200 different hand and power tools that are used for working with wood, metal, foam, or other synthetic materials. Students are trained to use these tools safely and effectively to create custom scenic elements that are used in HUTC's productions.
The shop also features a 20' x 40' paint frame for painting backdrops, stock material storage, a paint mixing station, and a double-wide loading dock. Students can work in the scene shop by accepting a department grant or by applying for on-campus employment. There are also several courses that use the shop as lab space, including Stage Construction, Scene Painting, and Play Production: Technical.
Costume Shop:
The costume shop, located in the Merrilat Centre for the Arts, is dedicated to theatrical costume design, construction, and alteration. In this space, students are trained to use a variety of specialty tools and machinery with which to make the costume designer's creations a reality.
Students who accept a department grant or apply for on-campus employment in the costume shop can be progressively trained as stichers, drapers, and designers over the course of their time at HU. There are also courses that use the shop as a lab space, including Costume Construction and Play Production: Technical.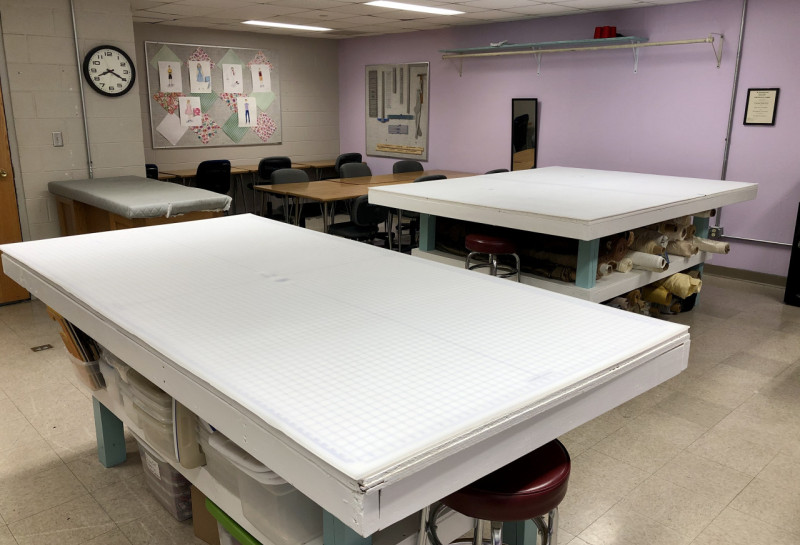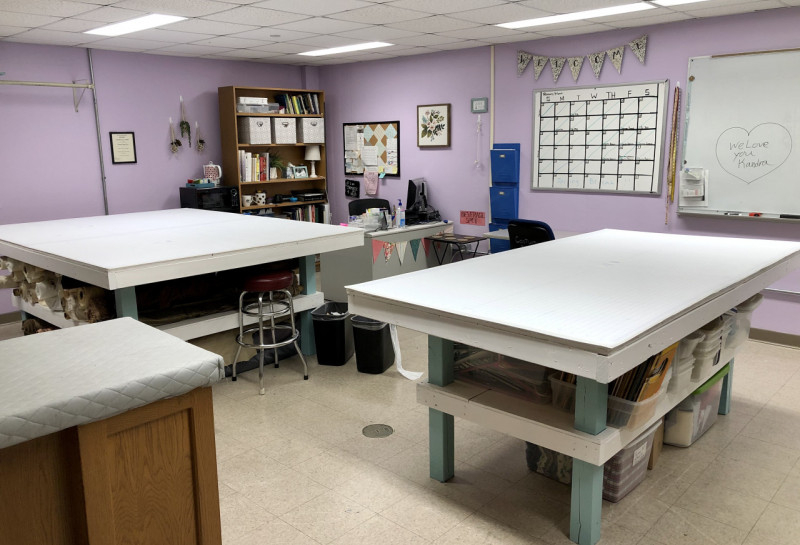 Design Lab:
The theatre design lab is a hub for brainstorming, innovation, and collaboration while planning for mainstage productions, working on class projects, or fine-tuning design skills. This room is reserved for the Theatre Arts Department and is where many of the technology and production courses are taught.
The design lab is set up as a collaborative space and features drafting tables, CAD workstations, and a large-format printer. Each week the creative team for the current production meets in this room to discuss design ideas, overcome challenges, and ensure that all show elements are working together towards a unified concept.
Studio Theatre:
The Merillat Centre for the Arts Studio Theatre is a flexible black-box space with a maximum seating capacity of 125. The room can be arranged in a variety of configurations based on the needs of the current production and is used for plays, musicals, revues, improv, and class presentations.
Although the Studio Theatre is a smaller performance venue, it features sophisticated lighting and sound systems to create high-quality designs. This space provides actors and audiences with an intimate setting and an immersive experience.
Zurcher Auditorium:
Zurcher Auditorium is the flagship performance venue on Huntington University's campus. The proscenium theatre boasts 697 seats, an 80-foot-wide by 30-foot-deep stage, hydraulic pit lift, 36 manual linesets, and state-of-the-art sound, lighting, and video systems.
Zurcher Auditorium is used for mainstage theatre productions, music and dance concerts and recitals, chapel services, and rental by outside groups. Whether you are performing on the stage or serving as a technician, this space will provide you with the experience and confidence you need to keep moving forward working in live theatre.
Acting Lab:
The acting lab is the central space for production rehearsals, acting classes, and independent student rehearsal. This room is reserved for the Theatre Arts Department and is where most of the acting courses are taught. The acting lab features a spacious playing area, full-length mirror wall and sound system for rehearsing musical numbers, and specialty lighting for increased rehearsal flexibility.