Nicole Scheiman
Associate Professor / Director of OTA Program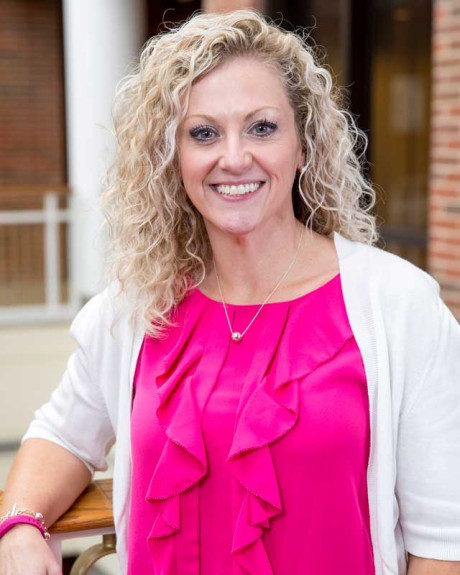 (260) 359-4183
nscheiman@huntington.edu
Joined the Huntington University faculty in 2016.
Dr. Nicole Scheiman, a native of Huntington, Indiana, leads and teaches in the occupational therapy assistant (OTA) program at Huntington University, the first accredited baccalaureate occupational therapy assistant program in the nation. Nicole's clinical experiences include working in acute care, transitional care, outpatient rehab, home care, long-term care, animal-assisted therapy, prevention and wellness, and as a lymphedema consultant. She remains clinically active, seeing patients in home care and providing consultation for Tactile Medical.
Nicole's research endeavors focus on oncology and clinical education, including a study for Current Breast Cancer Reports Journal titled "Surveillance Protocols for Survivors at Risk for Lymphedema." Research in progress includes looking at cancer education in OTA programs as it relates to clinical practice, college students' understanding and knowledge of the Human Papilloma Virus (HPV) and vaccination, and using the Clifton Strengths Finder Program and its effects on OTA students' clinical success.

Nicole began her academic career as a guest lecturer and later adjunct faculty to occupational therapy assistant and physical therapy assistant students in Florida. In 2013, she became the OTA program director, associate professor, and Student Occupational Therapy Association (SOTA) advisor for Advent Health University in Orlando. She would later bring this wealth of experience to Huntington University.
Education:
Doctor of Occupational Therapy (Post-Professional); Nova Southeastern University
Master of Health Science; University of Florida
Bachelor of Occupational Therapy (OT); Indiana University
Certifications:
Certified Lymphedema Therapist (CLT)
Lymphedema Association of North America certification (LANA)
Certified Kinesiotaping Practitioner (CKTP)
Certified Ergonomic Evaluation Specialist-Advanced (CEES-Advanced)
Certified Senior Strength Trainer (CSST)
Certified Strength Training Specialist (CSST)
Certified Dementia Care Specialist (CDCS)
Certified Oncology Rehab Expert (CORE)
Notable Experiences:
Leadership roles as the clinical coordinator of Rehabilitation Services, clinical manager of Sports Medicine and Rehabilitation, and director of Sports Medicine and Rehabilitation while at Florida Hospital; as director, she received a $300,000 grant from Florida Hospital for the implementation of the CREATION Health program
Subject matter expert for the National Board for Certification in Occupational Therapy (NBCOT) Practice Analysis Panel \
Course provider for therapy practitioners in edema management, lymphedema, breast cancer rehabilitation, head and neck cancer, cancer-related pain, ergonomics, and leadership
Instuctor for Summit Education, providing continuing education courses to allied health professionals around the country on Oncology Rehabilitation
Publications/Awards:
Invited to present at the King Fahad Specialist Hospital in Dammam, Saudi Arabia, on the topic of cancer rehabilitation-----Cancelled secondary to COVID
Wrote book chapter on lymphedema, published in the OT and OTA test preparation books titled 45 Days and Counting (also provided book review and consultation)
Involvements:
Board of Directors, Lymphology Association of North America
National Lymphedema Network
American Occupational Therapy Association
Indiana Occupational Therapy Association
Lymphedema Association of North America
Kinesiotaping Association
Roster of Accreditation Evaluators (RAE), Accreditation Council for Occupational Therapy Education (ACOTE)
Foundation Board, Parkview Huntington Hospital.