Forester Fund
Each year Huntington University awards approximately $10,000,000 in aid through the different programs reflected on this page. These funds are provided, in part, by the generosity of alumni and friends who give to the Forester Fund. Thank you to those who make these awards possible for current and future Foresters.
Academic Awards
Academic merit scholarships are awarded at the point of acceptance and are based on the cumulative high school GPA. Students are required to submit a final transcript after graduation from high school. Huntington University does not decrease academic merit scholarships based on 7th semester or final transcripts. Scholarships may be increased through March 1st of a student's senior year if a student's updated GPA qualifies them for a higher scholarship level.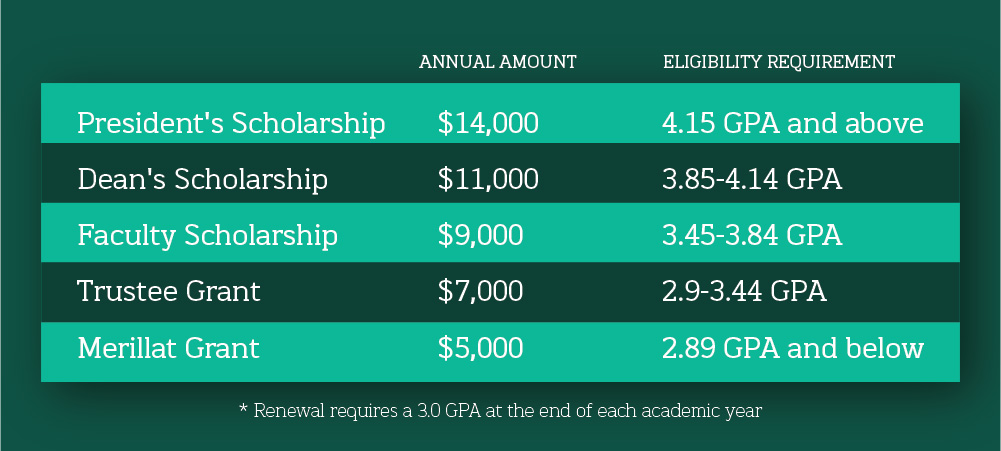 ---
Transfer Academic Awards
Transfer Academic Awards are eligible to students who will have at least 12 earned credit hours and at least one semester removed from high school. Transfer students are not eligible for Freshman Academic Awards or the Horizon Leadership Program Grant.
Transfer Distinction Scholarship: $10,000 annually
Requires a 3.5+ cumulative college GPA.
Transfer Honors Scholarship: $8,000 annually
Requires a 2.8–3.49 cumulative college GPA.
Transfer Scholarship: $5,000 annually
Requires a 2.0–2.79 cumulative college GPA.
---
Other Grants, Scholarships, and Awards
HU Grant: Amount varies annually based on FAFSA information and financial need.
Student must file a FAFSA to be eligible annually.
Hometown Grants: $500 - $2,500
Student must reside in Huntington County and complete application.
Alumni Grant: $1,500
Student must be a dependent of a Huntington University/Huntington College graduate.
UB Grant: $4,000 annually
Students must regularly attend and be involved with the Church of the United Brethren in Christ.
Church Service Grant: $1,000
Student must be a dependent of a full-time minister or missionary.
Matching Church Grant: Up to $1,000 annually
HU will match up to $1000 of the amount given by a student's church. The deadline for this grant is August 1 of each year. The Matching Church Grant is awarded to students whose local church contributes directly to the Huntington University scholarship fund. Please ask your church to fill out the Matching Church Grant Form by August 1 if they wish to support you while you attend HU.
Performance Awards: Amount varies
All Performance Awards can be found on the Department and Performance Awards page. Grant awarded based on faculty recommendation.
Athletic Scholarships: Amount varies
Scholarship awarded based on athletic department recommendation.
Horizon Leadership Program: Amount varies
Please visit the Horizon Leadership Scholarship page for scholarship details.
International Grant: $1,000 – $5,000
Student must be admitted to Huntington University and demonstrate need using this form.
United Brethren International Student Christian Leadership Scholarship: Full Tuition
International students who would like to apply for this scholarship should complete and submit the scholarship application form by March 1st.