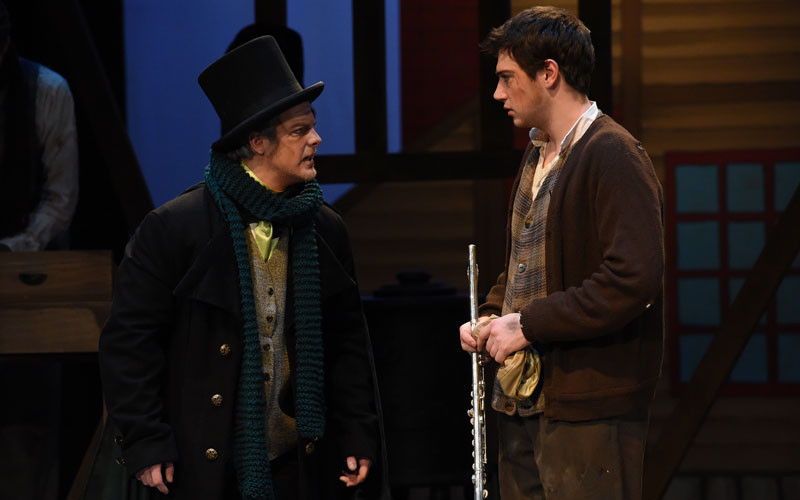 THEATRE ARTS MINOR
Grow your storytelling skills through theatre
If you connect with the stories of others and desire to help tell them through performance and production, a Theatre Arts minor at HU can help you hone that craft. The faculty and staff leading the Theatre department are dedicated to helping you learn through a Christ-centered lens in order to grow into an effective and creative communicator. Your time in the Theatre Arts will help you examine ideas, cultures, and values in a thoughtful way, while experiencing the performance aspects you love.
EXPERIENTIAL LEARNING
Production Technology students can put their skills to the test during live HU productions throughout the year.
FAITH-BASED
Bring honor to God through storytelling and learn from faculty and staff who teach through a lens of faith.
FOUNDATIONAL STUDIES
Gain essential skills and education that will develop you into an effective and creative communicator.
STATE-OF-THE-ART FACILITIES
Experience learning in HU's Design Lab, Studio Theatre, and 700-seat proscenium theatre.
WHAT WILL I STUDY?
Theatre Arts Curriculum
Whether you want to tell your story on the stage or behind the scenes, we want you to become skilled in the theatre arts, so you can bring any performance to life. A Theatre Arts minor is designed to enhance your skills of observation, analysis, and performance through both classroom instruction and productions. Through musicals, plays, and collaboration opportunities with film, broadcast media, and animation students, you'll gain a well-rounded and practical understanding of the performing arts.
Beginning Acting
Stage Construction
Stage Lighting
Costume Construction
History and Literature of Theatre
Play Production: Technical
Play Production: Acting
Dedicated Faculty and Staff
You May Also Be Interested In