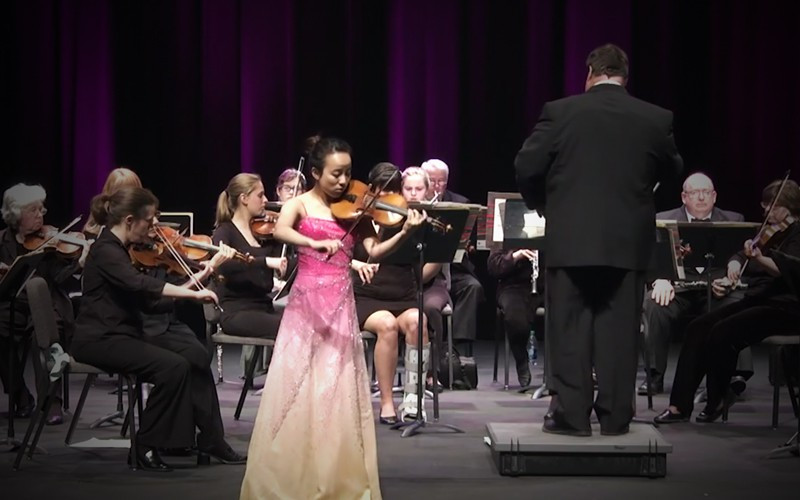 INSTRUMENTAL PERFORMANCE MAJOR
Develop a well-rounded performance repertoire
From performing on-stage with an ensemble or orchestra, to performing in the pit for a musical theatre production, studying instrumental performance at Huntington University will bolster your craft and love for music. You'll thrive in the The Merillat Centre for the Arts, performing in recitals in Longaker Recital Hall and Zurcher Auditorium, as well as other on-campus and regional concerto competitions and making guest performances at area churches. At HU, you'll journey from the practice room to the concert hall as you prepare for a career in instrumental performance.
A PEEK INSIDE THE REQUIREMENTS
Instrumental Music Curriculum
Intensive applied study of representative repertoire, technique, musicality, and sight reading provide the centerpiece for our performance program. Along with coaching and performance in applied lessons and labs, you'll have real-world opportunities and on-campus experiences to hone and present your craft.

In addition to solo recitals and performances, you will enjoy the opportunity to perform with a wide variety of ensembles including Wind Ensemble, Chamber Orchestra, Jazz Ensemble, Brass Ensembles, and other chamber ensembles.
Music Theory
Aural Skills
Introduction to Music
Basic Conducting
Music History and Literature
Brass/Percussion Tech and Pedagogy
Woodwind/String Tech and Pedagogy
Orchestration
Literature of the Instrument
Instrumental Pedagogy
Class Piano
Dedicated Faculty and Staff
You May Also Be Interested In