Indiana
Huntington University has a heritage of excellence in academics, and our first doctoral program reflects that heritage. Occupational therapy sits on the cutting edge of healthcare; our vision when so few other schools were offering doctoral programs in occupational therapy has made us a leader in OT education from the beginning.
We are an established program with a track record of quality graduates who are highly certified and competitively placed in the field. Our renowned faculty have professional experience in the field – many are still practicing occupational therapists as well as educators – and our facilities in Fort Wayne, Indiana, and Peoria, Arizona, are top-of-the-line.
Practical Training through Clinical Experiences
Students in our program complete clinical experiences in Indiana, across the country, and internationally. As part of the program, you will design, develop, and implement an advanced practice project with faculty oversight.
Project examples:
Fitting wheelchairs in a developing country
Implementing program evaluations of a healthcare system
Working with an industry to address ergonomic work issues
Designing therapeutic apps for occupational therapy interventions
56
New Students Admitted Each Year
$81,910
National Median Salary
98%
NBCOT-OTR Exam Pass Rate (average 3 years)
Huntington University's OTD students tackle innovation in class. Meet two students who saw a very clear need for individuals with mobility issues and they created a simple, effective tool to fix the problem.
ACOTE
Huntington University's Doctorate of Occupational Therapy Program is accredited by the Accreditation Council for Occupational Therapy Education (ACOTE) of the American Occupational Therapy Association (AOTA), located at 6116 Executive Boulevard, Suite 200, North Bethesda, MD 20852-4929.
ACOTE's telephone number is 301-652-AOTA and its web address is www.acoteonline.org. The OTD program is also accredited by the Higher Learning Commission (HLC), the regional accreditation body.
Retention
Graduation Year Students Entering/Graduating Graduation Rate
Graduation Year

Students

Entering/Graduating

Graduation Rate

2022

51 / 49

96%

2021

52 / 51

98%

2020

48 / 47

98%

2019

34 / 34

100%

2018

32 / 32

100%

2017

32 / 32

100%

Total

249 / 245

98%
NBCOT Outcomes
National Board for Certification in Occupational Therapy (NBCOT) pass rates are available by visiting this link.
Indiana Location
1819 Carew St.
Fort Wayne, IN 46805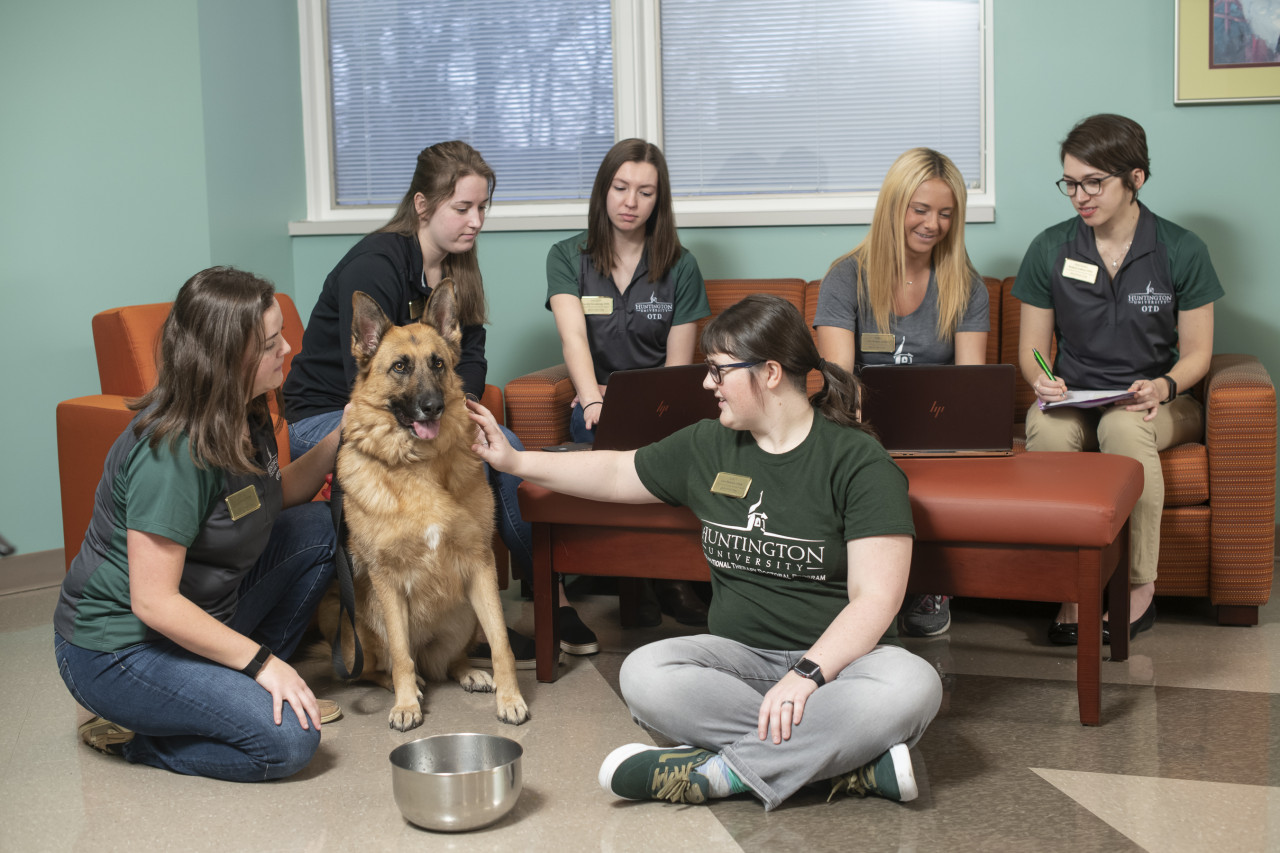 There's so much more we could tell you about Huntington University.
We would love to have a conversation with you about your goals and how we can help you reach them. To get started, tell us a little more about how our admissions team can contact you.
Interested in learning more?