United Brethren
United Brethren Partnership
The Church of the United Brethren in Christ founded Huntington University (what was then called Central College) in 1897. Bishop Milton Wright (whose sons, Orville and Wilbur, would be the first to fly) offered the prayer of dedication which marked a new beginning for students and faculty transferring from Hartsville College, a United Brethren school that had closed during the summer.
Since that time, the United Brethren Church has played a pivotal point in shaping the university into what it is today.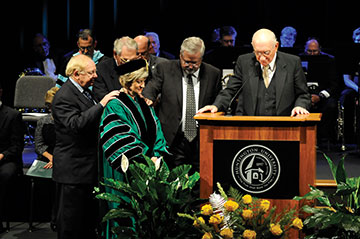 About the Church
The Church of the United Brethren in Christ, USA, consists of about 200 churches and other ministries in the United States.

They are part of an international United Brethren fellowship which includes 560-some churches in 18 countries.