HU Arizona Celebrates Commencement of Inaugural Doctor of Occupational Therapy Class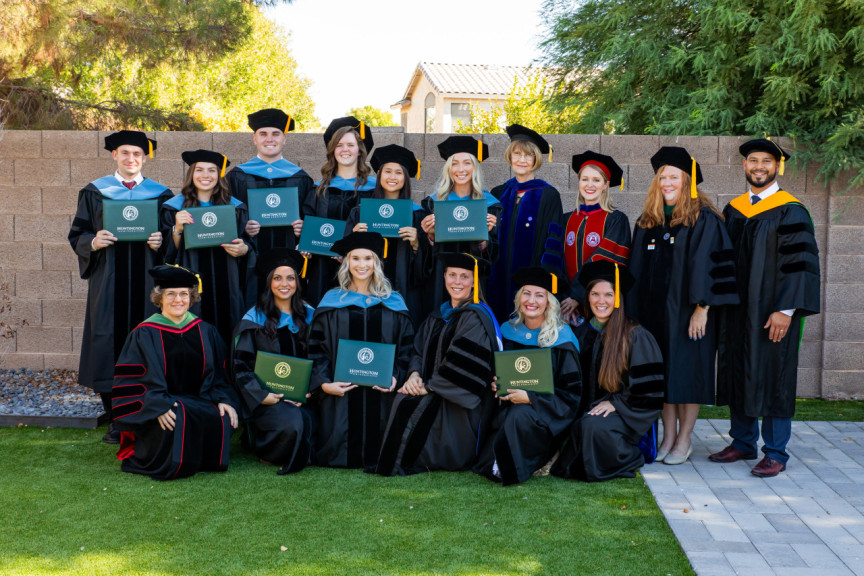 FOR RELEASE: Monday, August 21, 2023
University Arizona is thrilled to celebrate the graduation of its inaugural Doctoral Program in Occupational Therapy (OTD program) cohort. The program's pioneering class, now doctors of occupational therapy, were hooded, marking a significant milestone in their academic and professional journey.
Under the guidance of distinguished faculty members and with support from the University, these trailblazing graduates completed a rigorous curriculum that equipped them with the knowledge, skills and expertise to excel in the dynamic field of occupational therapy. Throughout their educational journey, they demonstrated academic prowess and a deep passion for improving the lives of individuals and communities.
"The Doctoral Program in Occupational Therapy at HU Arizona is proud to graduate the inaugural class of 2023," said Dr. Jamie Sanfilippo, dean of HU Arizona. "These students are ready to go out and serve Arizonians from all walks of life such as children with disabilities in clinics and schools, adults with upper extremity injuries or neurological diseases, as well as the aging population. All with the mission of enabling people to engage in their precious everyday activities at home, in school and at work. Congratulations HU AZ OTD Class of 2023!"
The graduation ceremony took place on Thursday, August 10, at New Life Community Church. Distinguished guests, faculty, family members and friends gathered to celebrate this remarkable achievement and honor the graduates' dedication to their studies and future contributions to the field.
To learn more about HU Arizona's OTD program, visit huntington.edu/OTD/AZ.