Dr. Chaney R. Bergdall (1947-2023)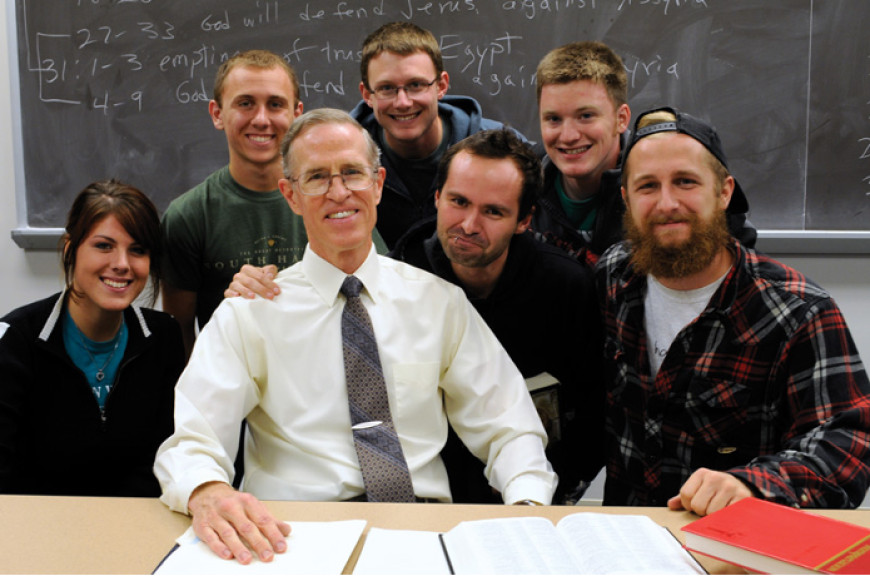 FOR RELEASE: Thursday, September 7, 2023
Huntington University mourns the passing of Professor Emeritus of Bible and Religion Chaney R. Bergdall. Admired throughout his career as a respected and caring colleague among the faculty, he was also seen as a beloved educator and friend to students and alumni. He served as part of the teaching faculty of the University for 37 years.
Dr. Chaney Bergdall was from a family of alumni whose associations with the University date back to the early 1930s. His father, George, and aunts Irene and Mary were all graduates of the University. His aunt Irene Bergdall was professor of mathematics at Huntington College for 33 years. Chaney graduated from Huntington College in 1969 and as a student was active in tennis, baseball, choir, student government, Clericus, and the Gospel Volunteers. He received a Master of Arts degree from the Institute of Holy Land Studies, a Master of Divinity degree from Trinity Evangelical Divinity School, and a PhD from Fuller Theological Seminary.
Dr. Bergdall joined the faculty in 1975 with the purpose of preparing young people for ministry and leadership. Through his love of Scripture, he instilled in his students a desire to dig deeper into the Word of God. Comments from former students praise his "intellectual excellence and Christlike humility."
Ryan Austin (2012) wrote that he was "forever grateful for the beautiful ministry of Dr. Chaney Bergdall and how his eyes lit up as he would teach, not giving simple answers, but always inviting more questions."
"Dr. Bergdall spoke of the Bible with such excitement that he practically vibrated as he taught through texts. Part of my passion for the Word of God has its roots in this man's lectures" commented Heather Lane Sylvia (1999). The student body selected Dr. Bergdall as Professor of the Year twice.
His colleagues held him in high respect. According to Dr. Jeff Webb, professor of history, he was the best example for young faculty: "He was an outstanding educator, thoughtful colleague, and committed follower of Christ. I audited Beginning Hebrew to get a taste of the language and see what made him such an effective teacher and came away inspired to model his proficiency with the subject, his generous spirit, and his obvious love for his students. By his example, he taught younger faculty what it meant to be devoted to the college's educational mission of broadening and sharpening the minds of those entrusted to our care."
Professor of Christian Thought and Practice Dr. Karen Jones gave special tribute for the way he worked with his colleagues and his ability to "think outside the box." One of the collaborative changes she made with Dr. Bergdall was to institute a faculty and staff worship service at the start of every new year. A tradition that continues to this day.
Jim O'Donnell, associate professor emeritus of business and economics, described him as "the spokesperson for the faculty, speaking sense, grace and truth." Dr. Dwight Brautigam, professor of history, indicated that he "was a constant, abiding anchor member of the faculty."
Along with his work for the University, Dr. Bergdall was an ordained minister in the Church of the United Brethren in Christ and pastored congregations in Illinois and California. He also served on several study committees for the United Brethren Church that dealt with social and theological issues.
Dr. Bergdall retired in 2012 and received the distinguished alumni award in 2013.
Dr. Chaney R. Bergdall will be remembered as an outstanding educator and friend of the University. Upon his retirement, he said, "I'm a teacher and minister of the Gospel, I'll never retire from that," and he never did. Please remember in prayer his wife, Patricia (1972), and sons Bruce (2002) and Steven at this difficult time.